Welcome to Saugatuck/Douglas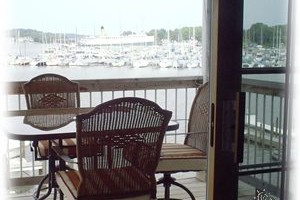 The Saugatuck/Douglas area offers mixture of relaxation and excitement with a year-round calendar of fun-filled activities and events. The winding Kalamazoo River on its way to Lake Michigan borders the two towns that are nestled among towering sand dunes.
Activities abound on the two waterways with both towns sporting public beaches on Lake Michigan for swimmers and sunbathers. Condé Nast's Traveler Magazine has rated Saugatuck's Oval Beach as one of the 25 best shorelines in the world and one of America's 11 great Beach towns.
The scenic city parks along the riverside are unhurried spots where you can spend the day picnicking, reading or watching the sailboats slip by.  An old-fashioned paddle wheeler shuttles passengers on tours of the river and along the Lake Michigan shoreline.
Visitors can enjoy an even more leisurely boat ride by hopping aboard North America's only hand-cranked chain ferry for a trip across the river or board a WWII "Duck" that provides a water/land tour of Saugatuck and Douglas.
Anglers can charter boats to go after salmon, trout, pike and perch. Those who want to make their own waves can rent boats, kayaks, jet skis, pontoons or charter sailboats or yachts.
Back on dry land, the adventuresome that climb 282 steps to the top of the Mt. Baldhead sand dune are rewarded with a stunning bird's-eye view of the harbor and lake below.  Visitors can also take a freewheeling ride on a "dune schooner" across some of the towering sand dunes.  Strolling along a winding boardwalk offers another impression of the river – homeport to some 900 yachts and sailboats.
Golfers can hit the links of 18-hole championship golf courses, one designed by golfing legend Arnold Palmer.
History buffs can tour the S.S. Keewatin, a 350-foot passenger steamship that once plied the Great Lakes – now a floating maritime museum moored in Douglas.  Anyone wanting an overview of the area's past can take an historic walking tour or visit the award-winning Historical Museum.
Canoeing, kayaking and horseback riding rentals are also available. Enjoy the area's natural beauty with a hike through Saugatuck Dunes State Park and/or the Allegan State Forest, or by touring a local vineyard.
For arts enthusiasts the area boasts more than 35 art galleries, a chamber music festival and is host to the Waterfront Film Festival each June – ranked 3rd after Sundance and Cannes by Screen Actors Guild Magazine.  Mason Street Warehouse professional theatre company presents Broadway-quality "uptown theatre in downtown Saugatuck" at the Saugatuck Center for the Arts throughout the season. The public is welcomed to visit Ox-Bow, a summer school affiliated with the School of the Art Institute of Chicago.
Saugatuck's other summertime events include art fairs, a Fourth of July Parade and a Harbor Days/Venetian Nights festival that concludes with a lighted boat parade and fireworks. Late in the summer, the area's restaurants create their culinary best at the annual Taste of Saugatuck and in autumn they enter a friendly competition to determine which makes the best chili – the Good-Time-Old-Time-Just-for-Fun Chili Cook-Off!
For those who prefer shopping as an activity, both Saugatuck and Douglas offer a charming mix of 19th century architecture and 21st century merchandise. There are clothing, gift, antique and home accessory shops galore.  Area businesses run the gamut, from Douglas' exclusive interior design shops to Saugatuck's galleries and fashion boutiques.
Hungry visitors have no problem finding a restaurant to suit their tastes. The area is home to dozens eating establishments, serving continental, Greek, American, French, English and Italian specialties. There are coffee shops and a variety of ice cream, pastry and fudge shops to satisfy the proverbial sweet tooth.  Mix it up and socialize at the many bars and watering holes along the river and in town.
With more than 30 Bed & Breakfasts in operation, the area has become renowned as the "Bed & Breakfast Capital of the Midwest."
Saugatuck/Douglas area has earned a reputation as a summer vacation paradise and there are plenty of activities to attract the visitor in search of an all-season escape as well. Early spring events include the Douglas Mardi Gras, a St. Patrick's Day Parade and The Waterfront Film Festival.
Exclusive to autumn are make-your-own color tours of the area's forests, a Heritage Festival celebrating local history and architecture, the Annual Gallery Stroll, The Halloween Harvest Festival and one of the largest corn mazes anywhere!  Autumn also invites visitors who want to sample the fruits of labor from area berry patches and orchards in the rolling countryside. You can even taste the fine wine made by a local vintner or sample farm-fresh pies at a local cider mill.
As fall leaves drop to usher in winter, Saugatuck/Douglas decks itself out in the spirit of Christmas by blanketing both downtowns with a vast array of twinkling Christmas lights, which become the backdrop for a festive parade and holiday shopping. Winter is also the time for invigorating cross-country skiing and cozy themed weekend packages promoted by area Bed & Breakfasts.
Year 'round, Saugatuck/Douglas is a great place to make your second home!